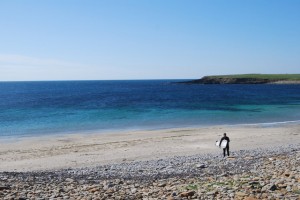 The Bay of Skaill is a large sandy beach below Skara Brae. Guaranteed to be busy with sand castle builders and dog walkers on a nice summer day, but otherwise you could be lucky enough to have it to yourself
Skaill Viking hoard – In March 1858, a boy was digging at Muckle Brae, when he came across a few pieces of silver lying in the earth. The boy was soon joined by a number of folk. Together they unearthed over one hundred items. This hoard is the largest Viking treasure trove found so far in Scotland.

The Bay of Skaill is a 4 minute drive from Unigar Cottages (see Google Maps for directions).