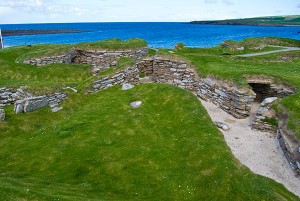 2.3 miles from Unigar Cottages, Skara Brae is Northern Europe's best-preserved Neolithic village
The Neolithic village of Skara Brae was discovered in the winter of 1850. Wild storms ripped the grass from a high dune known as Skara Brae, beside the Bay of Skaill, and exposed an immense midden (refuse heap) and the ruins of ancient stone buildings. The discovery proved to be the best-preserved Neolithic village in northern Europe. And so it remains today.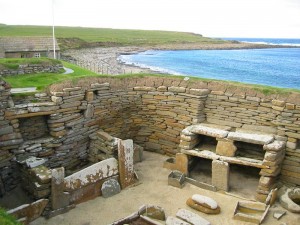 This Neolithic village on the shores of the Bay of Skaill in Orkney's west mainland is one of several stunning archaeological sites within the Heart of Neolithic Orkney UNESCO World Heritage Site.  This is the same status as held by the pyramids in Egypt and as you walk towards the New Stone Age houses of Skara Brae, a timeline illustrates how much older they are: Skara Brae 3200BC; Pyramids 2700BC.
Skara Brae is a 6 minute drive from Unigar Cottages (see Google Map for directions).