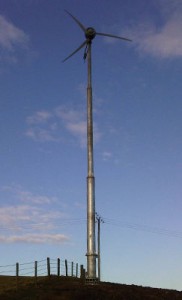 We are always looking at ways to help the environment and to make things more efficient. We have installed a 5kw turbine to supply the power and run the air source under floor heating. All the waste is processed through an anaerobic digester with no environmental impact.
Two cottages take their names from nearby quarries, where there is a long history of quarrying for flagstones and roofing tiles. Examples of this can be seen on the dykes and stone work at the cottages.
We have recognised for our Green approach by the "Green Tourism Business Scheme" where we proudly received a silver award.
The Loons and Loch of Banks R.S.P.B. Reserve: The Loons and Loch of Banks are the largest remaining wetlands in Orkney, and the perfect places to see wetland wildlife at its best. Enjoy the tranquillity of pools surrounded by yellow flag iris, while the sounds of wading birds, ducks and geese fill the air. Visit the Loons and Loch of Banks page on the R.S.P.B. website.
Unigar Cottages – Environmental Policy
Mission Statement
To offer top quality self catering accommodation and services for our guests; based on using sustainable practices that minimize our environmental impacts wherever possible.
Background
The Wood family own and manage Garson farm, a 550 acre livestock unit which is currently being converted to organic farming. This compliments a 5yr environmental scheme that is in place which benefits wildlife of local and national importance such as Brown Hares, lapwings and great yellow bumble bees for example.
Developing Unigar cottages has helped to grow and diversify the family business. To ensure the cottages are managed with the same ethos as the farm and our future ambitions, sustainable and environmental measures have been incorporated from the start.
Commitments
Comply with all relevant environmental legislation.

Adopt new practices, products and services which improve our environmental profile.

Encourage energy efficiency and measures to reduce energy use.
Promote the principals of reduce, reuse and recycle where possible and practical.
Making sure our guests are aware of the green measures we undertake and how they can contribute to reducing the environmental impact of their stay at Unigar cottages.
Encourage guests to experience and enjoy Orkney's rich and diverse natural environment.
To monitor and review our environmental performance and policy on an annual basis.
Green Policy in Practice
At Unigar we have a number of environmental friendly practices in place;
5kW Wind Turbine to reduce our bought in electricity needs.

Air to water heating system.

Sewage digester.
Motion sensors to reduce external light use.
Changing to LED lighting throughout the cottages.
Equipping the cottages with energy efficient appliances.
Planting trees around the grounds of the cottages.
Use environmentally friendly "Enjo" cleaning products for cleaning between changeovers.
And we encourage all our guests and employees to;
Recycle glass, tins, paper and plastic into the bins provided.
Turn of electrical appliances and lights when they are not needed.
Use the outside washing lines provided when possible.
Support the local community through purchasing local food, drink and crafts.
And whilst our guests are at Unigar Cottage we strongly encourage them to
Experience the great outdoor opportunities Orkney has to offer.
Explore local nature reserves with national and internationally important wildlife.
Discover the wonders of the UNESCO world heritage site.
Enjoy sandy beaches and coastal walks to name a few…………..